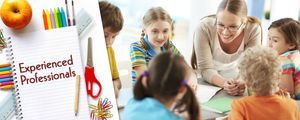 Rebecca Emery Chadwick, M.Ed.
Special Education Teacher, Curriculum and Instruction Consultant in Academic and Functional Skills, Consultant Low Incidence Disabilities              

Rebecca is the owner of Capabilities for Life LLC.  She obtained a Bachelor's degree in Special Education and Elementary Education from the University of Maine Farmington and a Master's degree in Special Education from Temple University.  Rebecca is a certified Reading Specialist, DIBELS Mentor, CLM Coach and Special Education Supervisor.  She began working with children with special needs in 1991 beginning her career in Early Intervention Birth to 3.   Rebecca's first public school classroom was a Junior High Multiple Disabilities classroom. She works in Life Skills Support, Autistic Support, and Multiple Disabilities classrooms with students in pre-school early intervention through age 21. Rebecca has worked as an Educational Consultant for fourteen years helping teachers of students with the most profound needs in academic and functional skills.  Instruction, progress monitoring, data collection and decision making, and IEP goal development are key skills Rebecca works with teachers to develop for better outcomes for students.  Rebecca instructs teachers and classroom staff in professional development settings and in the classroom coaching/modeling to build skills in all staff members.  She assists with Assistive Technology for both academic and communication needs.  Rebecca collaborates with districts to identify curricular needs of all students. Direct Instruction materials, explicit instruction techniques, a continuum of skills for students with disabilities, and other instructional materials are used to meet the unique needs of all students.  Building staff capacity to address the unique needs of all students is Rebecca's number one priority with every consultation. High expectations of all children must be held by everyone interacting and teaching children every day.  Rebecca's goal is to help establish that mind set in every member of the school community.
Josephine Brunner M.S. C.C.C.
Speech Language Pathologist, Assistive Technology Consultant (Communication)
Josie has a B.S. in Education- Speech and Hearing from Indiana University of Pennsylvania and a M.S. in Speech Language Pathology, also from Indiana University of Pennsylvania.  She holds a Certificate of Clinical Competence in Speech Language Pathology from the American Speech Language and Hearing Association.  Josie began her career as a speech language pathologist in 1989 serving children ages three through six in a public health center.  She spent the majority of her career in the public school serving children from kindergarten through high school with a wide variety of communication needs, including developmental disabilities and autism.    Josie has been employed as an educational consultant for the last ten years, specializing in assistive technology for communication.  In professional development settings, Josie works with teams to facilitate the process of implementing augmentative/alternative communication (AAC) systems, including developing a long range vision for AAC use  and problem solving around current needs. Serving children with Rhett Syndrome, their teachers, and their families is a passion and a mission for Josie.
Stacey Breiner, M.A.
Special Education Teacher, Behavior Specialist, Assistive Technology Consultant (Academic Instructional Materials)
Stacey Breiner has a B.A. in Education, Special Education k-12 and Elementary Education k-6 and a M.A. in Special Education.  Stacey has worked in the field of public education for 22 years as a special education teacher at Kidspeace Advances, a day treatment facility, a Multiple Disabilities teacher, an Itinerant Learning Support teacher and an Educational Consultant.  She has spent most of her career in public education teaching in the classroom.  As an Educational Consultant, Stacey has worked with teams providing professional development and classroom coaching related to the following areas: classroom management, effective instruction, supports for students with emotional/behavioral disorders, students with Autism, positive behavior supports and crisis management.  She has also assisted teams with facilitating the SETT framework and exploring assistive technology options to assist students with their academic needs.
Mary Mazonni, M.Ed.
Transition Specialist, Special Education Teacher
Mary Mazzoni has provided transition-related training and coaching to educators for the past thirteen years. Her blog Life After IEPs addresses transition topics and is followed by families and educators nationally. Mary designed and implemented ACTNow – a demonstration project for interagency collaboration for transition funded by the PA Developmental Disabilities Council.  She is a regular speaker at Pennsylvania Community of Practice for Transition training events and conferences, and she has spoken at national transition events.
Angela Yoder, B.S.

Special Education Teacher, Educational Consultant Low Incidence Disabilities
Angela Yoder has worked in the education field for 10 years. She has worked as a life skills teacher, autistic support teacher, learning support teacher, life skills paraprofessional and birth-3 special instructor. She has received professional certificates in special education, elementary education and middle school mathematics. She received her Bachelor's of Science in Education from Indiana University of Pennsylvania. Angela attended the 2018 NIFDI conference to receive training in Corrective Reading, DISTAR Math, and Connecting Math Concepts. She is well versed in Early Literacy Skills Builders, Early Reading Skills Builders, and Reading Mastery Signatures. She has taken continuing special education courses through West Chester University and Alvernia University.  Angela has spent the majority of her career working in the life skills classroom; designing academic, behavioral and functional instruction for children with varying skill levels. She has frequently worked with assistive technology and research based and validated programs designed for learners with special needs.
At Capabilities for Life LLC, we are focused on providing professional development and consultation services with the highest levels of district satisfaction & we will do everything we can to meet your expectations. With a variety of offerings to choose from, we're sure you'll be happy working with us. Look around our website and if you have any comments or questions, please feel free to contact us. We hope to hear from you soon!
Omar Najdi, M.Sc.

Web Developer
Omar has worked for more than 7 years in Web Developemnt and Server Management and Support. He is the one behind Capabilities for Life Website. providing design, development, support, and IT consultation.
Email:
omarnajdi@gmail.com